Last week in San Francisco, a coalition of climate activists showed up to speak out against Wells Fargo and BlackRock, urging them to #DefundLine3, divest from fossil fuels, and to fire Chairman Charles H. Noski.
Under Noski's leadership over the last five years, Wells Fargo has become the world's third largest financier of fossil fuels and has grown to become a main funder of fracking, toxic oil pipelines like Line 3, and loaned billions to coal, oil, and gas companies. The event was a powerful start to a shareholder season of direct action all over the world urging banks and finance giants to use the power they hold to take action on stopping climate destruction.
The day began outside of the Wells Fargo World HQ on Montgomery Street where activists painted a huge street mural calling on Wells Fargo to defund Line 3, a proposed pipeline that would route nearly a million barrels of dirty tar sands per day through Anishinaabe territory, causing irreparable harm to indigenous communities and lands.
All photos featured in this story are taken by Brooke Anderson, @movementphotographer. Art direction for this event was done by David Solnit.
After the mural was complete, activists marched through downtown San Francisco to the BlackRock office, where indigenous leaders from Idle No More SF Bay Area demanded they stop financing tar sands companies.
While BlackRock's leadership continues to take only baby steps, they are trying their best to portray themselves as bold leaders on climate action. The good news? Activists aren't buying it.
Folks know that BlackRock has the power to make critical votes at Wells Fargo's Annual General Meeting; they know that BlackRock's leadership can vote to fire Noski and use their unique position within the finance world to push other companies to take necessary action to decarbonize. And folks know that until BlackRock takes action and does these things, there is blood on their hands.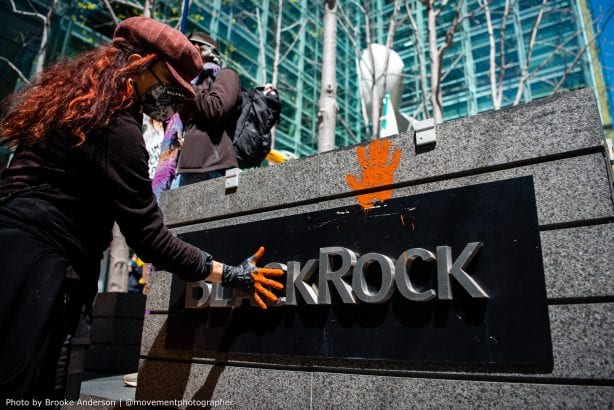 After years of being silent on climate change, BlackRock has recently responded to pressure and made new promises, including pledging to be NetZero by 2050. But vague commitments aren't enough. To BlackRock, Wells Fargo, and other companies financing climate destruction: we're watching, and we're calling on you to take action NOW. Not next year, not in 2050–now.
You can also watch a video recap of last week's action:
Wells Fargo: Defund Line 3 from Peter Menchini – Maya Media
This shareholder season will be a crucial test of whether BlackRock's leadership is willing to put their money where their mouth is on climate commitments by voting in favor of climate-critical resolutions and voting against corporate board members who have failed to take timely action on climate. The best news of all? Grassroots supporters have the power to make a real impact on their votes. We need all hands on deck to help show BlackRock that the world is watching them. Click here to take action to urge BlackRock to act on climate promises this shareholder season.

Additional resources